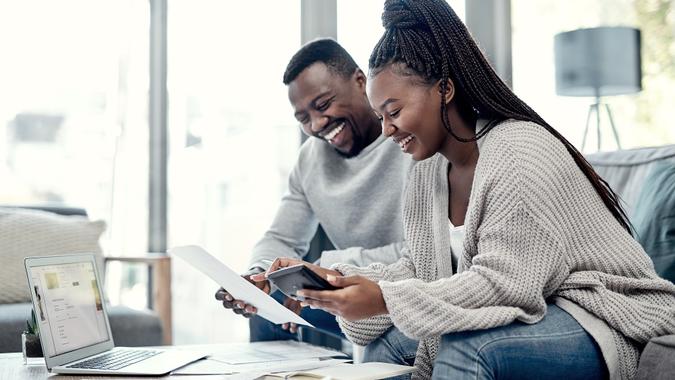 PeopleImages / iStock.com
The U.S. has a highly developed and intricate banking system, and its largest financial institutions play a vital role in the country's economy. That's no surprise given that four of the largest U.S. banks — JPMorgan Chase, Bank of America, Wells Fargo and Citibank — combined held nearly $9.1 trillion in assets in 2021.
Here are the 10 biggest banks in the U.S. based on consolidated assets held, with key insights into what sets each one apart and how they grew to where they are today.
1. JPMorgan Chase
Headquarters: New York, N.Y.
Assets: Roughly $3.3 trillion
In 2022, JPMorgan Chase is the largest bank in the U.S., with roughly $3.3 trillion in consolidated assets. Founded more than 220 years ago in New York City, JP Morgan Chase — commonly called Chase — has a nationwide presence, with more than 4,800 branches in 48 states and 16,000 ATMs, making it one of the most accessible banks in the country.
JPMorgan Chase has successfully employed a digital strategy to attract customers, offering one of the best mobile banking apps available today. It has also managed to seamlessly merge commercial banking and investment banking, offering a wide array of products and services to its clients. This, coupled with its massive size, has made JPMorgan Chase the go-to bank for many businesses and investors.
2. Bank of America
Headquarters: Charlotte, N.C.
Assets: More than $2.5 trillion
As one of the world's leading financial institutions, Bank of America provides small- and middle-market businesses, individuals, governments, and large corporations with investment management, banking, and other risk and financial management solutions. It has more than 4,300 branches and 17,000 ATMs, ensuring that its customers can bank when and where they want.
What has set Bank of America apart from its competitors over the years has been its focus on fostering personal customer accounts rather than solely commercial ones. Offering low minimums to open checking or savings accounts with competitive interest rates, Bank of America also extends lending discounts to its customers via Preferred Rewards.
3. Wells Fargo
Headquarters: San Francisco, Calif.
Assets: Nearly $1.8 trillion
Despite ranking third in terms of consolidated assets, Wells Fargo offers a broad network of bank branches — more than 7,300 locations across the U.S. — that tops its competitors. The bank has successfully tapped into new customer segments and small businesses through its expansive branch and ATM network. 
What sets Wells Fargo apart is its minimal participation in trading and investment banking operations and its primary retail and commercial bank operations. It's also one of the largest mortgage lenders for American homeowners. This strategy has allowed Wells Fargo to become one of the most stable and profitable banks in the country.
4. Citibank
Headquarters: New York, N.Y.
Assets: Nearly $1.7 trillion
Part of Citigroup, Citibank is a leading global financial services company that provides corporations, consumers, institutions and governments with a wide range of products and services. It has more than 4,200 branches and more than 20,000 ATMs worldwide, making it one of the most accessible banks globally.
As one of the first financial institutions to invest in ATMs, Citibank has always focused on technology, allowing it to become a leader in 5G, mobile, and digital payments. This focus on technology has helped Citibank grow its customer base and maintain its position as one of the largest banks in the world.
5. US Bancorp
Headquarters: Minneapolis, Minn.
Assets: Nearly $564.2 billion
U.S. Bancorp traces its history back to 1863 when two bankers founded The First National Bank of Minneapolis. Today, U.S. Bancorp is the parent company of U.S. Bank, the fifth-largest commercial bank in the U.S., with 2,900 branches in 25 states and 4,700 ATMs nationwide.
Offering its customers a full range of deposit accounts and financial services, U.S. Bancorp also successfully expanded its online and mobile banking presence, making it easier for customers to bank when and where they want. Multiple mergers and competition from Facebook, Amazon, Apple, and Google prompted U.S. Bancorp to improve its digital technology and customer experience, translating into strong financial results.
6. PNC Financial Services
Headquarters: Pittsburgh, Pa.
Assets: More than $551.9 billion
The product of a 1983 merger between Pittsburgh National Corporation and Provident National Corporation, PNC Financial Services is among the top banks in the U.S. due to its specialized perks and services to customers. It's also one of the largest diversified financial services institutions in the country.
PNC has been committed to customer satisfaction from its beginnings, with a focus on meeting the needs of small businesses, consumers, and mid-size companies. The bank offers a full line of products and services, including retail banking, corporate and institutional banking, asset management and wealth management.
7. Truist Financial Corp.
Headquarters: Charlotte, N.C.
Assets: More than $528.5 billion
In late 2019, BB&T and SunTrust merged to form Truist. Today, this relatively new bank has more than 2,500 branches and 3,500 ATMs in the U.S. In addition to consumer and commercial banking, Trust also offers a combination of other financial services, including mortgage lending, brokerage accounts, asset management and insurance products.
Truist's community banking model aims to empower low- and moderate-income earners and minority borrowers by helping them build assets and achieve financial success. It has made this focus on diversity and inclusion a key differentiator among competitors.
8. Goldman Sachs Group
Headquarters: New York, N.Y.
Assets: Nearly $434.1 billion
Goldman Sachs is a leading multinational investment bank that provides an extensive range of financial services to governments, corporations, individuals, and organizations. Today, Goldman Sachs is one of the largest and most successful investment banks globally, with a presence in more than 60 cities worldwide. Because it mostly operates as an online bank, Goldman Sachs doesn't have a network of branches or ATMs, but it does have offices in California, New Jersey, New York, Texas and Utah.
Founded in 1869, Goldman Sachs has been at the forefront of finance and has helped shape the world's economy by providing its clients with sound financial advice and innovative products. The company is one of the few financial institutions to have survived the Great Depression and has weathered every major financial crisis since.
9. TD Bank
Headquarters: Cherry Hill, N.J.
Assets: Nearly $423.7 billion
A subsidiary of Canadian multinational Toronto-Dominion Bank, TD Bank operates more than 1,100 stores and 700 ATMs in the U.S. and offers a full range of retail, small business, and commercial banking products and services.
Calling itself, "America's most convenient bank," TD Bank is committed to providing its customers with easy and convenient access to their money. Its partnership with fintech provider Moven, the New York-based neobank-turned-money management software provider to banks, credit unions, and employers, is a testament to that commitment.
10. Capital One
Headquarters: McLean, Va. 
Assets: $381.30 billion
Capital One's commitment to digital transformation has been a large factor in the company's growth and success. The company was founded in 1994 as a credit card issuer and has since expanded its offerings to include auto loans, mortgages, banking, and investing products and services.
A top issuer of credit cards in the U.S., Capital One is a leading provider of digital banking products and services. Its recent acquisition of fintech United Income has also helped the bank provide wealth management services for retirement planning. The fintech combines both technological aspects with human facets, allowing for a more personalized experience for customers.
Takeaway

The largest banks in the U.S. offer a wide range of products and services to consumers, businesses and institutions. With extensive histories and dedication to digital transformation, these banks are well-positioned to continue serving the financial needs of Americans in the years ahead.
FAQs about the Largest Banks in the US
Here are some of the most common questions people ask about the largest banks in the U.S.
What's the No. 1 bank in America?

JPMorgan Chase is the top bank in the U.S. in 2022, based on consolidated assets.

What's the difference between a commercial bank and a retail bank?

Commercial banks offer a full range of products and services to businesses and corporations, while retail banks offer products and services to individual consumers.

What's the difference between a bank and a credit union?

Banks are for-profit corporations, while credit unions are not-for-profit organizations. Credit unions typically have fewer fees and offer lower interest rates on loans and deposits than banks.

What are the four major banks in the U.S.?

JPMorgan Chase, Bank of America, Wells Fargo and Citibank are the top four banks in America in 2022.
GOBankingRates is a personal finance and consumer interest rate website owned by ConsumerTrack Inc., an online marketing company serving top-tier banks, credit unions and other financial services organizations. Some companies mentioned in this article might be clients of ConsumerTrack Inc., which serves more than 100 national, local and online financial institutions. Rankings and roundups are completely objective, and no institution, client or otherwise, paid for inclusion or specific placement. Any opinions, analyses, reviews or recommendations expressed in this article are those of the author alone and have not been reviewed, approved or otherwise endorsed by the companies included in the article. All fees and rates are subject to change at the issuers' discretion. Some interest rates might be short-term or promotional offers only, and it is possible additional terms and conditions must be met to obtain the interest rates listed. Rates and availability might vary by region. Verify terms and conditions before opening an account.
GOBankingRates bases its assessment of "best" and "top" products on the above-stated parameters to create a baseline for comparison. This assessment is an approximation of "best" and "top" designed to help consumers find products that might be appropriate for them. There could be other options available as well. Consumers should consider various options appropriate for their circumstances.
Our in-house research team and on-site financial experts work together to create content that's accurate, impartial, and up to date. We fact-check every single statistic, quote and fact using trusted primary resources to make sure the information we provide is correct. You can learn more about GOBankingRates' processes and standards in our editorial policy.
https://www.gobankingrates.com/banking/banks/biggest-banks-in-the-us/